KaServer5 is the current reigning server in the KaServer lineage.
Perhaps you meant to find out about Kasoft Software instead?
The Order of KaServer
The following list summarizes the lineage:
KaServer: The Original Server ran on A3000s at The Don College
KaServer2: The Next Generation ran on an IBM clone at Tioxide Burnie
KaServer3: Deep Space Nine ran on a PowerMac at the University of Tasmania
KaServer4: Voyager ran on an IBM clone at the University of Tasmania
KaServer5: Enterprise runs on enterprise-grade servers at FreeYellow Inc in Massachusetts
Before KaServer
The Latrobe High School Level 3 Econet fileserver (LATROBE) was the Archer's playground before the Order of KaServer. Here are some of the welcome banners: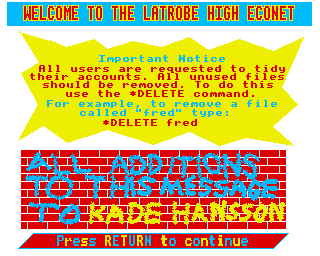 Log in screens from LATROBE created 30/10/90, 30/07/91, 29/11/91.
---
The material on this web site is subject to copyright.

Kasoft is a registered Australian trademark (in the category of software) of Kasoft Software, owned by Kade Hansson.

Author and editor: Kade "Archer" Hansson; e-mail: archer@kaserver5.org

Last updated: Friday 1st February 2008